The Weekend Tourist - A visit to a nationally renowned artist in Northeast
 November 12, 2012
Linda Koutsky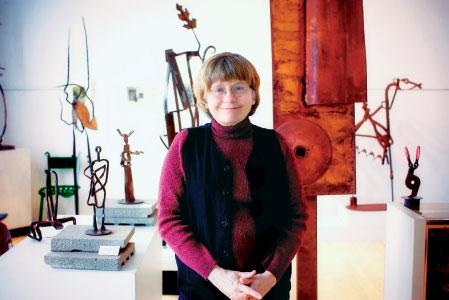 Have you ever wondered who makes the public artworks seen in parks, schools, city plazas or even bus shelters? Artists are commissioned for those pieces and often go through a lengthy process of making artistic sketches and architectural drawings — and that's even before the welding starts. One Minneapolis artist has been creating these artworks nationwide for years and resides in the California Building — epicenter of the Northeast Minneapolis Arts District.
After graduating from the University of Wisconsin–Milwaukee with an arts degree, Marcia McEachron headed to the Twin Cities and worked at the Minneapolis Institute of Arts. As a drawing major she mostly worked on paper, but soon she became to be attracted to the linear qualities of ironwork — realizing it was like a drawing in three-dimensional space. She worked with a mentor in Colorado who taught her the basics of blacksmithing and metalwork and soon her drawings sprung off the page and became sculptures. Early work consisted of railings and gates, then she began to use lifework to capture and define a space. Today, joyful animals made of forged metal and found shapes gracefully prance across her studio floor.
While her studio is in the California Building, her metal shop is located off-site. Pails and piles of broken metal pieces scavenged from junkyards and farmer-friends cover one side of the building. She pulled out a broken gear, part of a tractor seat, a spring and something I couldn't recognize and arranged them on a metal table. After some rearranging and a few quick strokes with white chalk I saw the goat! It'll be one of the many farm animals along a 16-foot fence at Royalton's High School in just a few weeks.
Some of McEachron's closer projects include the giant stainless steel pinecone at Centennial Lakes Park in Edina, two leaf bus shelters in South Minneapolis and St. Paul, decorative railings with hammered metal branches and whirligigs at Minnesota Children's Museum, and a scenic landscape complete with a lake and loon cut-outs at HCMC.
McEachron's work has been sold in galleries throughout the midwest and southwest; she's been commissioned for public art projects across the country for town squares, schools and civic buildings; and she's won many national awards and competitions. In addition to metalwork she also sells colorful landscape watercolor paintings of Truchas, New Mexico, where she goes every fall. Her whimsical wire sculptures are an easy way to become a collector of this artist's work. Give the gift of art this year!
For more diversions, follow the Weekend Tourist on Twitter (@WeekendTourist)