Woman of Steel
A Minneapolis metalsmith with a contemporary twist
By Megan Kaplan ~ Midwest Home Magazine - April 2008 


Every blacksmith is naturally drawn to steel yards. But Minneapolis artist Marcia McEachron took it a step further. "I moved to Northeast because I wanted to be near the yard," says the 61-year-old metalsmith who began manipulating steel nearly 30 years ago. "It's so convenient."
Convenience tends to be at a premium when metal is your medium. Just consider the storage, transportation, and physical strength it takes to work with hundreds of pounds of steel. "My rule is any sculpture bigger than I am is sent to the metal fabricator," says McEachron, who collaborates with Linders Specialty Company in St. Paul to build her giant public sculptures. The partnership has produced the whimsical, green prehistoric-size leaves that serve as bus shelters at University and Fairview in St. Paul, and Nicollet and 60th in Minneapolis, as well as the public commission she's currently working on, a 9-foot-tall stainless steel pinecone that will glimmer from the center of a stone path maze in Edina's Centennial Lakes Park. McEachron, an avid hiker, says she finds "tremendous meaning" in nature's humble forms.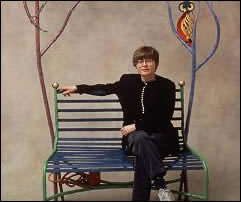 Growing up in Milwaukee as an only child to a single working mother, McEachron had to find ways to entertain herself. She filled her days with sketching—a passion that led her to the University of Wisconsin–Milwaukee, where she earned the school's first drawing and painting degree in 1970. After graduating, she spent eight years working in arts administration at the Minneapolis Institute of Arts and the Minneapolis American Indian Center before stumbling upon what would become her life's work.
"One day in 1978, I walked into a blacksmith shop in Uptown and there was this guy working the metal," says McEachron. "He was teaching classes, so I signed up." Tool by tool, apprenticeship by apprenticeship, McEachron hammered away at the age-old craft, gradually gaining recognition in the public and private spheres for her contemporary spin on hand-forged steel furniture and art.
Marcia McEachron's Pinecone is the focus of this Public Art Profiles installment.
Rainbow Horse
The piece that marked a turning point in her progression was Rainbow Horse, which she crafted in 1981 out of curved steel and wheels. "I couldn't let go of that one," she says of the graceful sculpture that stands sentinel in her front yard. "It was the first time I started working with found objects; in that hunk of curved steel I saw a horse."
Incorporating found objects is now a hallmark of her metalwork. McEachron used old tractor seats to create boardroom chairs for John Deere. She also created a mural cast in steel that illustrates the history of the Model T and A with parts from the old cars for the lobby of the Ford Centre in Minneapolis, where she was an artist-in-residence for 15 years.
In McEachron's garage, which serves as her studio, obscure equipment, unfinished sculptures, and piles of metal jockey for space. "It's pretty unglamorous," McEachron says with a sly smile, squishing her formidable Sci-Fi-style welding helmet over her grey-brown bob. She points out the forge—which she built herself—that heats her steel up to 2,000 degrees so she can shape it with her 100-year-old power hammer.
"Everything in here has an idea behind it," McEachron says, as she slows the hammer down, coaxing it with a firm "Come on baby." "To some, it probably looks like a junk pile. But to me, it's solid gold."
Marcia McEachron exhibits her metal sculpture at the Cardona Hine Gallery in Truchas ,New Mexico since 2001.
Since 2013, she spends part of each year working in Truchas teaching Drawing and Watercolor to adult classes.
In June she works with a team of 3 teachers to teach young children in a Summer Arts and Science program in Truchas. Truchas is a mountain town, half way between Santa Fe and Taos on what is called the High Road to Taos. The town is a mix of artists, farmers and professional people from all walks of life.
If you are interested in contacting Marcia use her email:
[email protected]
Landline: 505-689 2682 or cell phone: 612-860-6881